Dec. 14, 2020
Summary
LPCN's long road to market for its oral testosterone pill has been bumpy; however, the FDA just gave TLANDO tentative approval.
LPCN traded down on the approval, but traders are missing out on the bigger picture: the company's promising drug candidate in NASH, and a market with a massive unmet need.
LPCN's top-line Phase II results of LPCN 1144 in NASH are mere weeks away from being released.
What's more, LPCN's patent infringement lawsuit against Clarus Pharmaceuticals goes to jury trial in February 2021. LPCN already crushed Clarus in a previous lawsuit by Clarus against LPCN, which even led to Clarus' own oral testosterone patent being invalidated.
With many positive catalysts coming within weeks, now is an excellent time to stock up on the shares.
Investors in Lipocine (NASDAQ:LPCN) have been waiting for years to hear the word "APPROVED" from the FDA. The perilous journey has included multiple rejections for its oral testosterone candidate. On the night of December 8, the word "approved" finally arrived, yet the modifier "tentative" appeared in front. This might have confused many investors and led the more skittish to sell the stock on this news. I see it as a great opportunity to buy shares at a discount and will explain the multiple reasons why.
First, a little background on LPCN.
Lipocine and Its Large Target Markets
LPCN describes its company and its products as follows:
Lipocine Inc. is a clinical-stage biopharmaceutical company focused on metabolic and endocrine disorders using its proprietary drug delivery technologies. Lipocine's clinical development pipeline includes LPCN 1144, TLANDO XR, LPCN 1148 and LPCN 1107."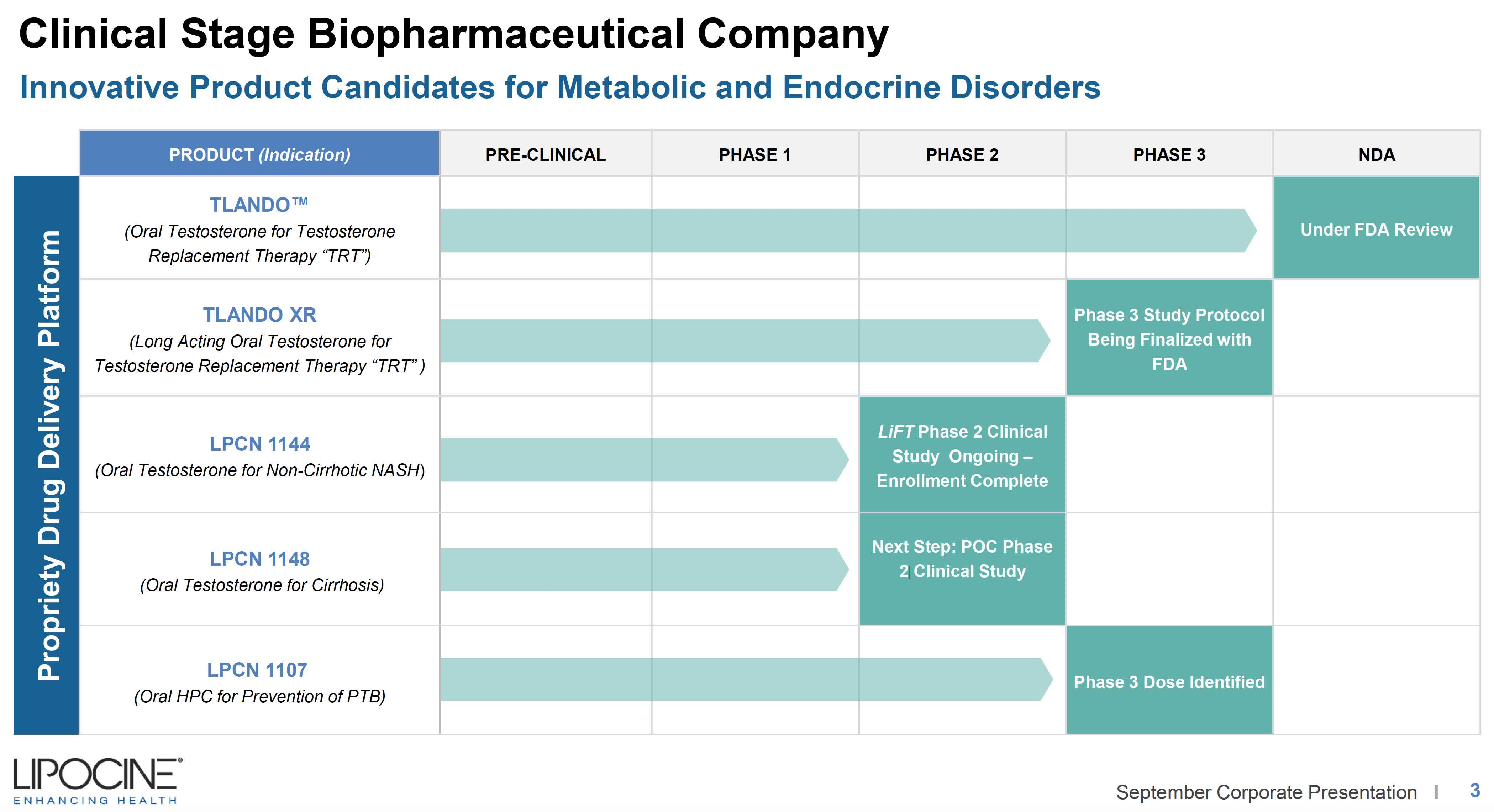 LPCN's three current markets, enabled by its patented technologies and formulations, are:
Testosterone Replacement
Liver disorders such as NASH and Cirrhosis
Prevention of Preterm Birth
I will concentrate on the first two markets in this article.
LPCN and the Testosterone Replacement Market
The medical term for low testosterone is hypogonadism (which is obviously why the drug marketing geniuses came up with the more fun sounding "Low-T".)
The incidence of diagnosed low testosterone is extremely high, at about 6 million men in the U.S. alone, and estimated at up to 20 million men in just the U.S. including the undiagnosed.
What's more, of the diagnosed patients, only 1/3 of them are currently receiving treatment, despite the very real and sometimes disabling consequences of low testosterone.
The global testosterone replacement therapy (TRT) market has been estimatedat $1.6 Billion in 2018, expanding by a CAGR of 4.4% to 2027.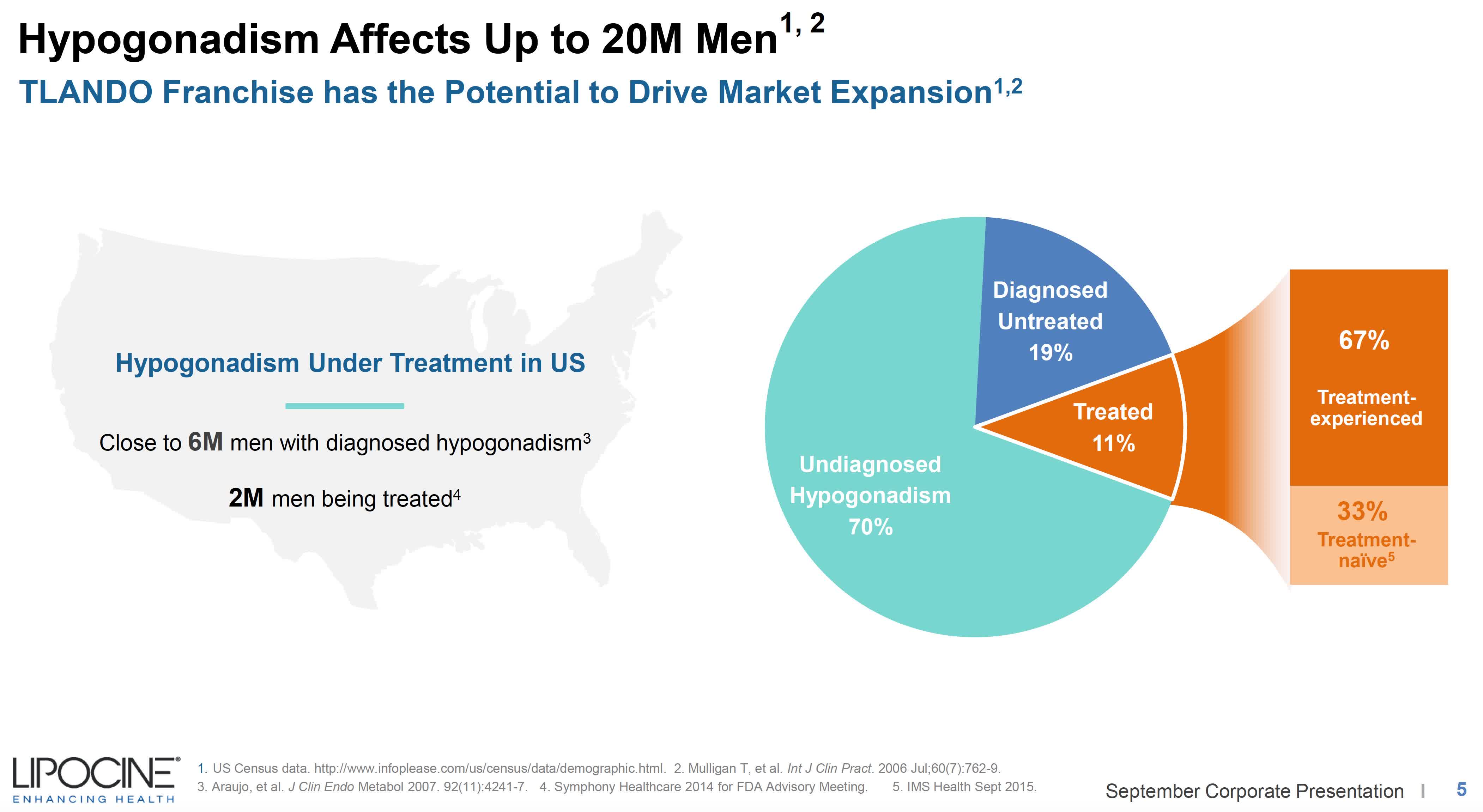 Source: Corporate Presentation
Up until now, the various options for raising one's testosterone level have been less than great, resulting in an extremely poor rate of adherence. Most of these products on the market require titration, which is where the appropriate dosage is arrived at through trial and error. This usually involves multiple visits to the doctor and revisions to prescriptions. LPCN's TLANDO on the other hand comes in pill form, taken twice a day, and does not require titration.
Per LPCN, 50% to 80% of patients using testosterone therapy requiring titration stop taking the therapy within three to six months. That is a TERRIBLE rate of adherence. The only oral testosterone therapy currently on the market, Clarus' Jatenzo (the subject of a lawsuit by LPCN as I'll discuss below) requires titration.
TO READ MORE OF THIS ARTICLE, CLICK HERE.