Wrap Technologies Introduces A Policing Tool That Will Rival The Taser
Jan. 16, 2019 9:15 AM ET
Summary
Axon Enterprise, Inc. pioneered the "Less than Lethal" police weapon market with their Taser conducted electrical weapon. But the Taser has drawbacks, and police departments need an alternative.
Wrap Technologies (WRTC) has introduced a patented weapon that will deliver on the original promise of the Taser: A non-lethal restraint device that will truly help police de-escalate conflicts.
In only 6 months, WRTC has demonstrated its BolaWrap for over 100 U.S. police departments; 40+ of those are now in active testing. 500+ agencies worldwide await requested demos.
WRTC has assembled team of experts including numerous ex-police chiefs and former police officers to take this technology to the market.
Increasing attention paid to police use-of-force issues, massive lawsuit settlement costs, and the desire for departments to de-escalate contacts with the public should lead to rapid sales.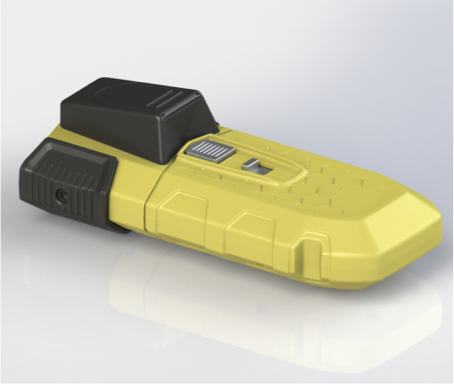 The police have a difficult job. While their official role in society is law enforcement, police are also on the front lines of dealing with mental health crises. The mental health support infrastructure in the United States and in many parts of the world has been decimated. Often when dealing with a mentally unstable person or somebody under the influence of narcotics, current tools are ineffective or even counterproductive.
Wrap Technologies (WRTC) has developed the BolaWrap for the broad range of circumstances where the police want to restrain somebody while de-escalating the situation. Based on the early reaction of the Law Enforcement community, as we'll reveal below, it looks like WRTC has a huge winner on their hands. That is why I have invested in WRTC, and I believe that the company will provide extraordinary returns to early investors.
A SHORT DESCRIPTION OF THE DEVICE
The BolaWrap is 6 inches long, 2 inches wide and 1 inch thick. A single-use Bola cartridge is loaded into the top of the device, and re-loadable in seconds after discharged. The officer cocks the device and aims it with the assistance of a green laser beam. When the officer presses the trigger, an 8 foot long Kevlar cord shoots out of the device at over 640 feet per second. The cord wraps around the target's body 2 to 3 times and stays in place by way of barbed hooks on each end of the cord.
A "STORY STOCK" THAT IS MORE THAN JUST HYPE
WRTC is what I consider a "Story Stock" – a company whose product is easy to describe in a couple sentences and is captivating to the media.
If there's any doubt that WRTC has captured the media's attention with the BolaWrap, look at these features from U.S. media: ABC Eyewitness News Chicago, News 12 Brooklyn, CBS 4 Miami; around the world in The Times of London; and on non-English language stations such as Telemundo. The BolaWrap has been featured on TV news segments more than 60 times within the last year.
What a story stock needs to make it more than just a quick trade is the same for any good investment. Here are my categories for determining a good investment: Market Need / Market Size; Intellectual Property Moat; Proven Technology; Experienced Management; Clean Corporate Structure / Insider Support; and Access to Capital.
Below I'll detail how I think WRTC stacks up in each category.
MARKET NEED / MARKET SIZE
The new product needs to have a place in the market. In the case of WRTC's BolaWrap, this would be a place on the "Force Continuum," which is the Law Enforcement term for the level of physical force applied to get a subject to comply with an officer's commands.

Source: Wrap Technologies Investor Presentation December 2018
The BolaWrap is very early on the Force Continuum scale, meaning that it has a far broader use potential than the Taser or, of course, a gun. The BolaWrap was designed specifically to fill the gap in policing in which police seek to non-violently stop a person who doesn't comply with verbal commands (often with mental health/drug issues) from harming themselves or others. Of course, many people in the middle of a mental health crisis are not capable of complying with a police officer's verbal commands.
The statistics regarding police shootings and mental health are alarming:
The risk of being killed while being approached or stopped by law enforcement in the community is 16 times higher for individuals with untreated serious mental illness than for other civilians.
At least 1 in 4 fatal law enforcement encounters and as many as 1 in 2 involves an individual with serious mental illness.
Source: TreatmentAdvocacyCenter.org
According to the NYPD's numbers last year, officers responded to nearly 150,000 callsreporting a person in mental crisis. – Source: News 12 Brooklyn
COST TO CITIES OF POLICE MISCONDUCT CASES
Police misconduct cases involving weapon use have been a tremendous drain on the budgets of large cities throughout the U.S. Police departments have been reeling from the perception that officers are targeting individuals with inappropriate violence. The BolaWrap is a device that WRTC believes can counter that impression and measurably change the dynamic that has resulted in so many needless deaths and massive legal settlements.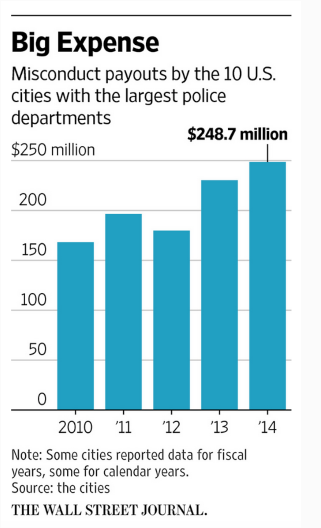 Source: The Wall Street Journal
We can assess the market need not just based on studies and police officer testimonials, but by the number of departments that are reaching out to WRTC for demonstrations and testing of the BolaWrap.
In just the past 6 months, the BolaWrap 100 has been demonstrated in front of more than 100 police departments in the United States.
Of those 100 departments, 41 of them have decided to move into internal testing, and 25 have already moved into field testing. Field testing involves officers on patrol with the BolaWrap on their belts or vests.
Source: Wrap Technologies Investor Presentation December 2018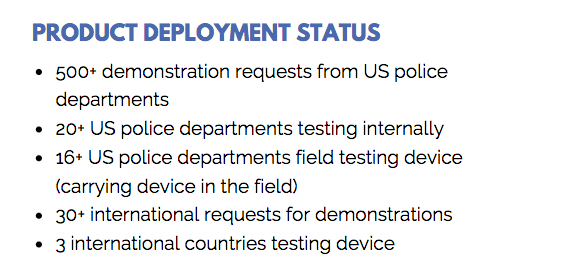 Source: Wrap Technologies Product Specs Sheet, December 2018
The non-lethal weapons market is extremely large, estimated to be $6.32 Billion in 2016 globally, and predicted to rise to 11.85 Billion by 2023.
WRTC provides some U.S. market size statistics, as follows:
701,000 officers in 15,300 federal state and local law enforcement agencies.
295,000 Corrections officers in 1,800 facilities.
1,100,000 private and government security officers.
Throughout the world, aside from the U.S., there are 12,100,100 law enforcement officers.
In many countries, the United Kingdom for example, officers typically do not carry guns. It seems likely that such countries in which police rely on deterrents other than guns will be particularly interested in the BolaWrap.
TASER VS. BOLAWRAP
In 2017, Reuters published an investigative report about the use of the Taser called Shock Tactics.
It is a revealing look at the conducted electrical weapon, its limitations, and allegations that it can cause lasting harm or even death.
The adoption of the Taser by agencies around the globe point to its utility in providing police officers with a tool to subdue an uncooperative subject without resorting to deadly force. Unfortunately, the use cases are not always ideal, and as illustrated in the Reuters piece, the subjects are sometimes in a mental state or physical state that renders them incapable of responding to the Taser in a way that defuses conflict. Enter the BolaWrap, which has the sole aim of restricting a subject's movement to de-escalate a situation.
CLICK HERE TO READ THE FULL ARTICLE: WRAP TECHNOLOGIES RESEARCH